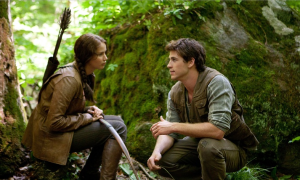 Last year ended with mixed reviews regarding the number and quality of female role models in popular entertainment.  With the exception of "Heat," summer movies were a zero-sum game, with few women even making into the picture. Music was dominated by Miley Cyrus' bizarre and overtly sexualized antics, and over in publishing, books with one word titles like "Lick," were climbing the charts.
Mercifully by winter, the brilliant Jennifer Lawrence returned as Katniss Everdeen, the heroine of The Hunger Games, capturing our collective imagination with the release of Catching Fire, the second movie in the series based on the books by Suzanne Collins. Although brash and clumsy when it comes to her own relationships, the brave teenager does (spoiler alert!) help crush a republic—one that is rotting away, its populace degraded from too much food and a steady diet of television violence. Whatever lessons you take from this enormously successful dystopian trilogy, one thing is certain: in the face of oppression, the fight for democracy can be dangerous and bloody—something one only need look at the New York Times to confirm.
After immersing myself in Collins' extraordinary trilogy and being blown away by Jennifer Lawrence's spot-on performance as the complex, captivating Katniss, it was deflating to be reminded that both the actress and the heroine she plays are such rarities. Our pop-culture landscape is littered with over-sexed female celebrities whose contributions to our daughters' perceptions of what it means to be a woman are, in my opinion, damaging.
To combat this depressing deluge of regressive dreck, I went looking for some real-life role models to usher in 2014 on a more hopeful note: flesh-and-blood representations of the courageous spirit of Katniss. Despite their conspicuous absence from pop culture, I found no shortage of examples of women who've shown Katniss-like levels of courage in the face of oppression and corruption, in some cases paying a high price for their strength.
So to begin 2014, here are my awardees for the first annual Mocking Jay awards:
The Night Witch. The New York Times Magazine recently remembered World War II hero Nadezhda Popova (known as Nadia,) a member of the all-female 588th Night Bomber Regiment of the Soviet Air Force. One of the world's first female combat flight pilots, she and her comrades would cut their engines and glide perilously close to the ground to hit their targets. The gentle swoosh they made overhead evoked for German soldiers the flight of a witch's broom, earning the squad its nickname, the Night Witches. Popova died at age of ninety-two with her eight hundred and fifty two air missions largely forgotten.
Malala Yousafzai.  An outspoken advocate for the education of girls, this brave Pakistani teenager and student began blogging at the early age of eleven and was shot in the head by the Taliban in 2012, as a warning to others. One of the youngest nominees ever for the Nobel Peace Prize, Malala, who is now 16, managed to recover from her grave injuries and has since become an important global symbol of peaceful protest.
Nadezhda Tolokonnikova and Maria Alyokhina.  Members of the punk protest band Pussy Riot, Nadezhda and Maria were sentenced to 21 months in prison in Russia for singing a song that was insulting to Vladimir Putin. On Dec. 23, 2013 they were granted amnesty and released – just as Russia prepares for international scrutiny on the eve of hosting the Winter Olympics. Minutes after being released, with television cameras filming, Alyokhina promptly rejected her amnesty, saying, "I don't need mercy from Putin."
Tetyana Chornovil. A reporter in the Ukraine known for exposing the vast corruption of the current government, Chornovil was brutally beaten outside Kiev just before Christmas. She has bravely allowed images of her face, which reveal the extent of her horrific injuries, to be posted around the world, her image a potent reminder of the brutal attempts at intimidation that go on in her homeland.
From the brutal treatment of journalist abroad, to the revelations of Edward Snowden right in our own backyard, the sad truth is that you don't have to pick up a novel to read about dystopia.
What do you think The Hunger Games' President Snow would have made of the women whom I nominated? Of their refusal to retreat, or express gratitude for false mercy?  I'd also love to know who you'd nominate for the 2013 list.  I'm certain I've barely scratched the surface of good choices, of role models who chose to devote their lives to a cause greater than their own fleeting fame.
Send me an email at evette.davis@gmail.com with your choices.