I'm excited to present the second author interview in Between the Lines (BTL).  I'm almost a little too excited because my guest is Kelli Stanley, the talented writer behind the Miranda Corbie Mysteries. 
I discovered Kelli after the Wall Street Journal reviewed City of Ghosts. I sent her a congratulatory tweet and picked up a copy at Green Apple Books, and BAM, just like one of the hop-heads who inhabit her novels, I was hooked on Miranda, a complicated female gumshoe intent on justice.
I must admit I'm pretty sweet on Kelli, too. A former comic book storeowner, actress and historian, she exhibits the kind of intense intellectual curiosity that I find irresistible in a person.  She graciously granted me a lengthy phone interview in advance of sending her some questions and I found myself nodding in agreement repeatedly as we discussed her path to writing and some of her heroes and role models such as Raymond Chandler and Martha Gelhorn.
In Miranda, Kelli has created a brilliant but flawed, chain-smoking heroine.  Raw with anger and pain over her damaged life, she demands to be taken seriously, on her own terms.  In short – the perfect character for a dame like me.  I hope you enjoy the interview with Kelli. I know I did!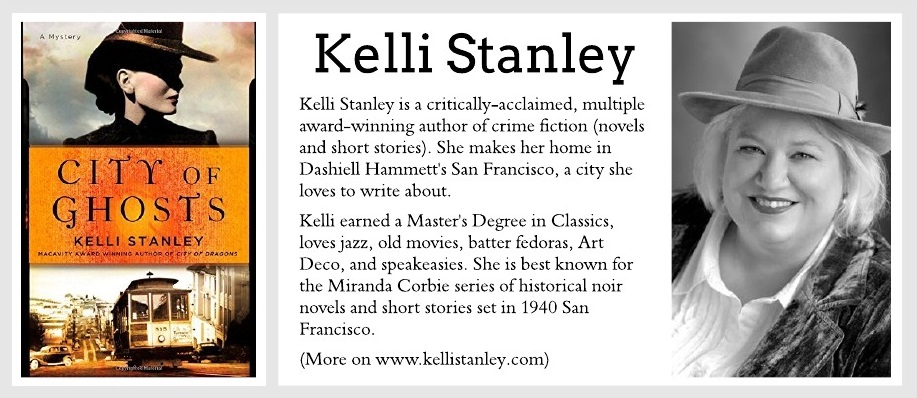 1. I liked Miranda, she's flawed in a way that speaks to me and her different habits caught my attention. Why the Lifesavers?
When we first meet Miranda Corbie, in CITY OF DRAGONS, she's suffering from what we would now call PTSD. She's embittered, anxious and a compulsive smoker—someone who is trying to rebuild her life—struggling, in fact, to rebuild a desire to live.
She finds cause and reason in the case she takes on: a chance to pursue justice for the forgotten, something her lover Johnny would have done.
One of the major themes of the series is about Miranda learning to value herself … not just as an attractive woman, not just as her dead lover's soul mate, and not just as a PI crusader for the flotsam and jetsam cast aside by a racist, classist and sexist culture.
By the second book—CITY OF SECRETS—she's made tentative steps toward embracing herself and her life, and part of this change is shown by her consciously trying to cut down on cigarettes (San Francisco hills, after all). Lifesavers instead of Chesterfields? Works for Miranda. The candy may actually live up to its name! 😉
As a Mills Graduate (1990) I was curious about Miranda's time there. Why that school?
Mills just felt right. As the oldest woman's college west of the Rockies, it has enjoyed a progressive reputation for a very long time. Given Miranda's harrowing, abusive childhood (unfortunately all too realistic for millions of her generation of Americans), it made sense that she'd be drawn to the relative "safety" of a woman's college. Plus, she was an English major, at a time when she still wanted to try to win her father's approval, and Mills was the perfect place for her.
I noticed that some reviewers disliked her smoking, but it's a very realistic habit for the time. When you work on your characters do you ever worry about "going too far" or making them unlikeable?
Here's the thing: I write psychological realism, not two-dimensional shadow plays. Miranda is complex: like most people, what is on the surface can be very different than what is under it.  Unfortunately, a segment of our society reads only to see what they want to see, and that's what entertains them … a reflection of their own biases and limitations. They don't want to be challenged; they don't want realistic protagonists; they want to skim the surface and find comfort and affirmation for their own specific set of mores.  For such readers, Miranda could be termed "unlikable" – though I would be willing to bet that, for the same readers, a male protagonist with identical characteristics would not be so considered.
She drinks—she smokes—she uses profanity. Like Ava Gardner (as noted in a recently published memoir), Miranda swears like the proverbial sailor partly in order to keep off "the gaze"—unwanted sexual attention from the various men she encounters in life and on her cases.
She is also my attempt to write a "femme fatale" as a hardboiled protagonist, thus turning noir's misogynistic conventions inside out.
For the record, I write what I write and live up to my own literary and personal integrity. I try to make people aware of the nature of my books by posting reviews, synopses, questions, interviews, videos, et. al. on my website. If someone wants to read and live in a G-rated world, more power to them—just don't read my work.
Miranda Corbie is a damaged soul, a broken idealist, a woman who is trying to find something to live for. Her actions betray a compassionate heart empathetic to the plight of the underdog and the downtrodden. What's so unlikeable about that?
Do you read your reviews?
Yes, though I honestly try not to read Amazon comments. The Internet has fostered a subculture of people desperate to be heard … symptomatic of the concomitant powerlessness behind a global society. We are all linked through information access, so some people find ego, power and identity from proliferating their opinions as personal attacks and abuse.
As an author and a person, I am grateful to all the readers who write me and who leave thoughtful reviews online, whether positive or negative; unfortunately, no published writer remains unscathed from the bullies, and—given that Miranda rocks the boat for many of them—I have been subject to the same vitriol as everyone else.
On the other hand, I've been blessed with some reviews that are, themselves, beautifully written … and which, on a hard day, I may find myself re-reading. Everyone needs encouragement, particularly authors on a deadline!
People often assume Olivia the sword-wielding heroine of my books is based on me… Do people ask you how much of yourself exists in Miranda?
Sometimes. Friends know that Miranda's zeal for social justice is reflective of my values, as is her general impatience and intolerance for hypocrisy. I don't smoke, I do use profanity, and I occasionally throw back a bourbon (never rye). 😉
Would you go back and live in the 1940's?
Never. I witnessed racism as a young child in Florida in the 1970s (we spent a year there); my parents were quiet crusaders against the blights of racism and sexism as far back as I can remember. The experience affected me profoundly.
As much as I love the beauty and elegance and camaraderie of the late '30s and early '40s—the Art Deco design, the craftsmanship, the music, the films, the formality, the  unity of a more outgoing and social generation—I would not willingly live in a time when freedom was a hypocritical myth for so many Americans. I'd like to visit, however—and buy a copy of Detective Comics 27 for my collection! (The first appearance of Batman).
As a student of history, any observations about human behavior that you're repeatedly drawn to in your writing?
We haven't changed much in the last couple of thousand years. As a species, we've not yet learned how to handle the mass media inventions of the last century, and now here we are, confronted with a global culture fueled by over-consumption and mega-corporations. My biggest worry is that our short-sightedness as a species is imperiling all life on this planet. Profit before responsibility, fear before reason, mine before yours, all are age-old hazards of the human race—but if we don't learn to embrace empathy, understanding and reason, our tenure on Earth is limited.
For better or worse, the world has been focused on Paris. And before that we had the Sony hacking incident. Any thoughts on the state of self-expression in the world today?
When a group or political/cultural entity is bent on silencing any opposition or criticism, that group or entity is not only oppressive, it is weak. True strength stems from facing and listening to the opposition. But then again, terrorism isn't about discourse; it's about wanting power and murdering people in order to gain it.
For the record, I do not excuse the denial of basic human rights for any reason, be it religious, cultural or political. Free speech is one such right, period, whether it's in Paris or Staten Island or Saudi Arabia, and we need to be united in supporting those suffering on behalf of it, like Raif Badawi.
As for Sony, I do think news outlets stepped outside privacy laws by publishing private emails. So Hollywood can be narcissistic, tantrum-throwing and spoiled … that hardly qualifies as news. 😉
Obviously you adore San Francisco, care to name a favorite place?
Tough question! Chinatown is one of Miranda's favorite hangouts, and mine, too. I was heartbroken when Sam Wo's closed down a few years ago, and now the Empress of China is gone. But Li Po is still around, as are a few other favorite spots. I love Aquatic Park and the Hyde Street Pier; Gumps any time, but particularly at the holidays; John's Grill on Ellis, Telegraph Hill, Fisherman's No. 9 and the unhipsterized remains of the Mission, West Portal, the Cliff House, Sutro Park and Land's End and Louie's, the Legion of Honor and the Shakespeare Garden, and … well, the list is getting too long!
Ok, best place to throw back a drink in SF?
Other than the previously mentioned Li Po on Grant Avenue, I'm still partial to Bourbon and Branch, host of my first book launch party. I love a good speakeasy!
Can you tell us about your next project?
I'm currently finishing up CITY OF SHARKS, the next book in the Miranda Corbie series. It takes place in September, 1940, and Miranda is preparing to ship out to Britain—right in the middle of the Blitz. First, though, she's been hired to investigate a couple of attempted murders— in the publishing business! Settings include Alcatraz and Playland, and, as always, real people, real places (with actual phone numbers) and real history layer the novel.
Thanks for the questions, Evette—it's been a pleasure!