Beneath the fog of San Francisco lurks a hidden world that controls our fate.

Woman King
Nobody who works with superstar political consultant Olivia Shepherd knows that she has supernatural empathic abilities—and that's just how she likes it. But when she wakes up one morning to find Elsa, an ancient time-walker, standing in her kitchen, Olivia can no longer ignore her gifts or the mystical path that awaits her.
Soon she is plunged into the hidden world of powerful "Others" who operate beneath the dense fog of San Francisco. Drafted to work for the Council, a shadowy organization that controls the fate of humanity, Olivia must decide whether to dedicate herself to its cause. Complicating matters further is Olivia's new love interest, William, a centuries-old vampire who is far too jaded to take an interest in human affairs. As shocking details from Olivia's own past emerge and her role in the world begins to take shape, will she rise to the challenge of her destiny?
Book One of the Dark Horse Trilogy, WOMAN KING is a story of personal discovery, intrigue and love that will transport readers from the dark, mossy hollows of Golden Gate Park, to the subterranean pools of Hearst Castle, and then on to the streets of Paris, where dramatic confessions reveal long-kept secrets that will change Olivia's fate forever.
What cards will Olivia be dealt in her pursuit of vengeance?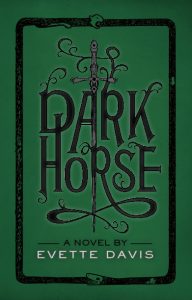 Dark Horse
Supernaturally gifted Olivia Shepherd goes on assignment in Eastern Europe after a brutal act of terrorism shakes the Council to its core. What Olivia really wants is time to recover and to process the stunning revelations about her father that her mother kept secret from Olivia all her life. But with thousand-year-old vampire Nikola on her tail, rest is not in the cards for the reluctant soldier, who is only now discovering the extent of her powers. And when Nikola makes the fight horrifically personal, Olivia becomes blinded by her need for revenge. Soon drawn back into the treacherous politics of the Council, she finds herself separated from her lover, William, and thrust into an uncomfortable partnership with his beguiling brother, Josef. As everything in Olivia's life spins out of control, will she surrender to destiny or forge her own path?